iPhone App Review: mPassport Paris
December 7th, 2009 by zclark
Have you ever heard the horror stories about people on vacation that are hurt or have a reaction to something and have to deal with doctors and specialists that don't speak their language. mPassport Paris is and app that ensures that you will never be in that situation in Paris. This app was developed to give you a list of doctors and dentists that speak English in Paris.
mPassport Paris Pros:
This app does all that you are thinking that it does and more. When you find a doctor or dentist that you would like to see, you can have the app schedule an appointment for you. Some other extras that you may find useful in Paris are the drug equivalent guide, medical translator, or the emergency services functions. The app looks and functions great, providing a seamless app to the average user. This app provides a function to help you find yourself in Paris, so if you are by the Moulin Rouge or in the near by town of Versailles you can find the nearest medical service to your location.
mPassport Paris Cons:
This app offers all that I expected it to provide and more. I searched for a while and the only thing that I can think of is that it could use some pictures of the landmarks, that would be useful to the average tourist.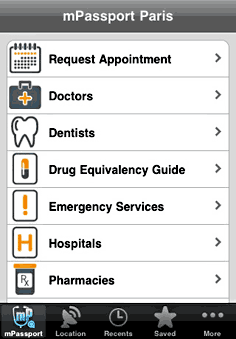 This app is a must buy for those that expect to visit Paris in the near future. I understand that this app is the first of many of the same type. I think that this is exactly what the world traveler was waiting to see. Don't get caught in Paris with a tooth ache and a French dictionary guiding you to a dentist, use mPassport Paris.
Pros:
– Many, many extras
– Functions to help you locate services
– Pictures and bios of the doctors.
Cons:
– No pictures of the landmarks or neighborhoods.
– So far limited to only Paris.
I give this app a 9/10 because the mPassport is a must have for world traveler.